Why choose Island Acres for family reunions, lodging for weddings or other gatherings?
Put yourself and your group in the heart of the vibrant Gunnison Valley and all this unique area is known for–hiking, trails, Hartman's Rocks, cycling, fishing, boating, rafting, climbing, the Blue Mesa, the rivers, the Black Canyon of the Gunnison, western history, fantastic summer weather, wildflowers and wildlife. Or sit on the porch and read a book. Island Acres offers something for everyone!
With so much to do, Gunnison makes it easy to host your family reunion or as the site for your destination wedding.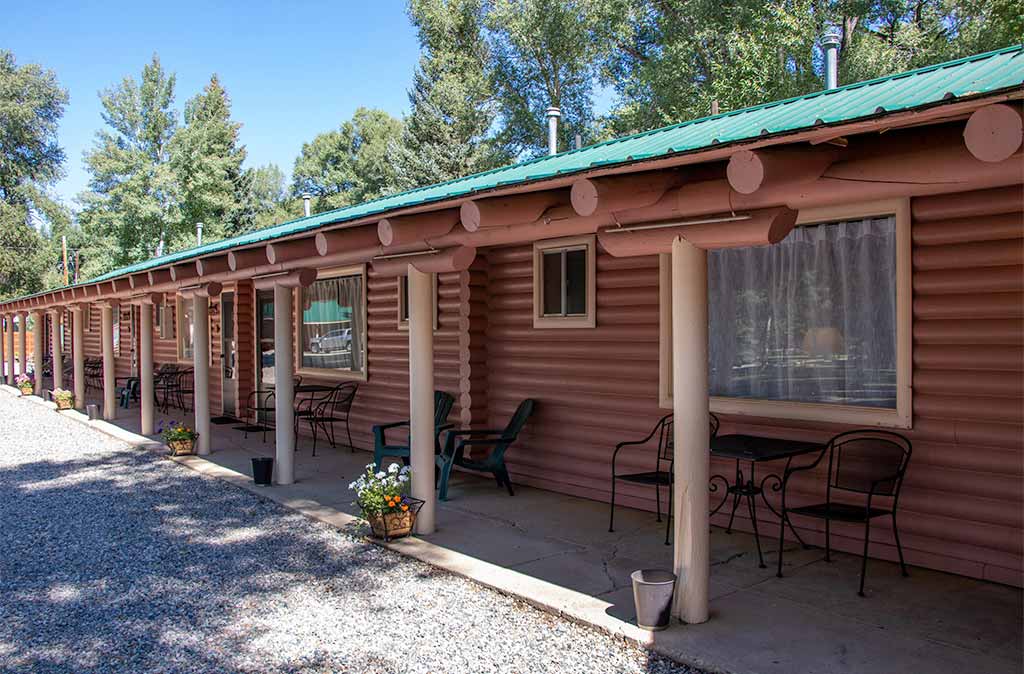 Island Acres for family reunions,
lodging for weddings or groups
What makes the restored Island Acres Resort Motel one of the best motels or hotels in Gunnison for family reunions, lodging for weddings or groups?
Proximity: close to Gunnison and the Gunnison airport. Also close to favorite venues such as the I Bar Ranch. Only a short trip (25 minutes) to Crested Butte.
Comfortable lodging: Island Acres can accommodate everyone from active toddlers to folks who prefer to read a book or star gazing. Enjoy our game and reading libraries, outdoor space, front porches and kitchens between your group activities and festivities.
Amenities for groups: Seventeen kitchens are available for easier group meal preparation. Large parks and outdoor tables for group picnics. Charcoal grills are available including massive ones. Large firepit for evening campfire and S'mores.
Patio area: Available for use–free of charge–with the rental of five units or more. Enjoy the patio for meals or special gatherings such as birthday parties, wedding or baby showers. There is a covered area for meal service and a sunny patio with tables and chairs for 30. Decorate our rolling bar to suit your needs!
Extra random stuff: warming trays, oversized soup pots, coffee urns, waffle makers and crock pots are all available for guest use.
On-site rentals: Want to make your lunch or dinner extra special? Some with a part of Gunnison's history? Rent one of our local historical china and dish sets for your group dining. Sets to choose from: Gunnison's IOOF Lodge's Jadite Fireking, Gunnison's Silver Sage's china and Boulder School's 1950s commercial dinner-style dishes. And we will do the dishes! Limited to the use on the patio.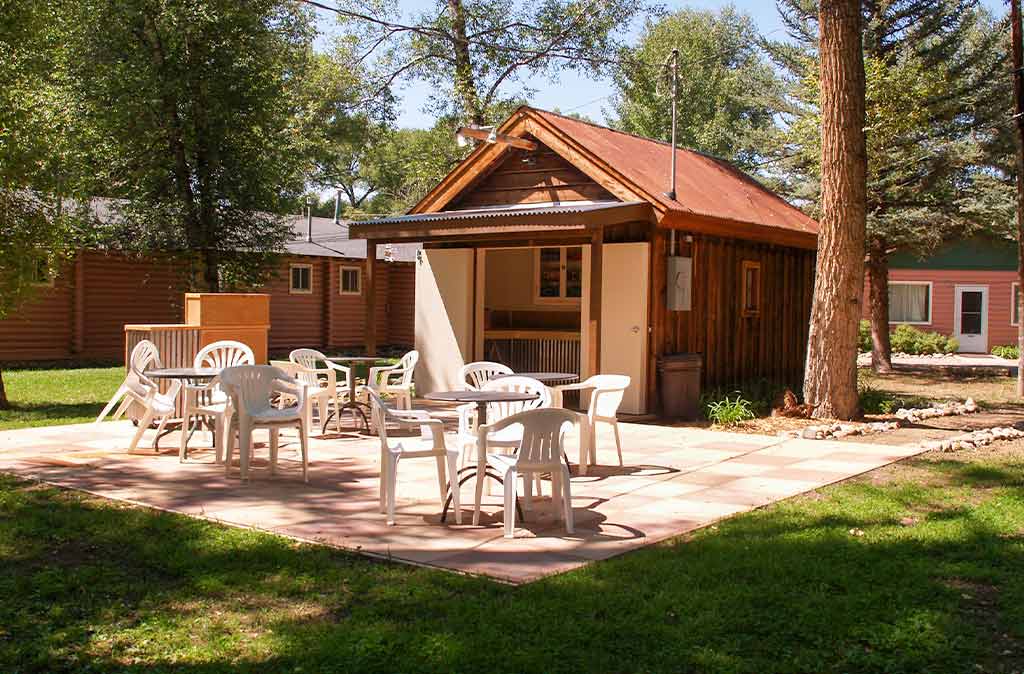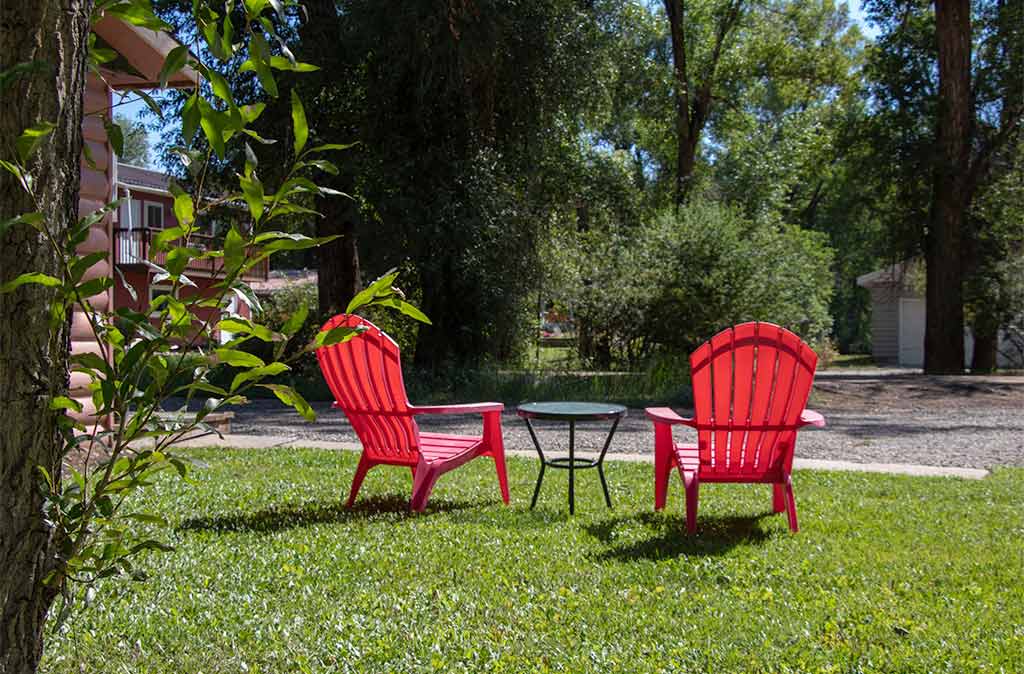 Island Acres never overbooks or lists the property on multiple websites. No sudden, last-minute scrabble or canceling your event because of an Airbnb cancelation. Your reservations is guarenteed to be held for you and your party.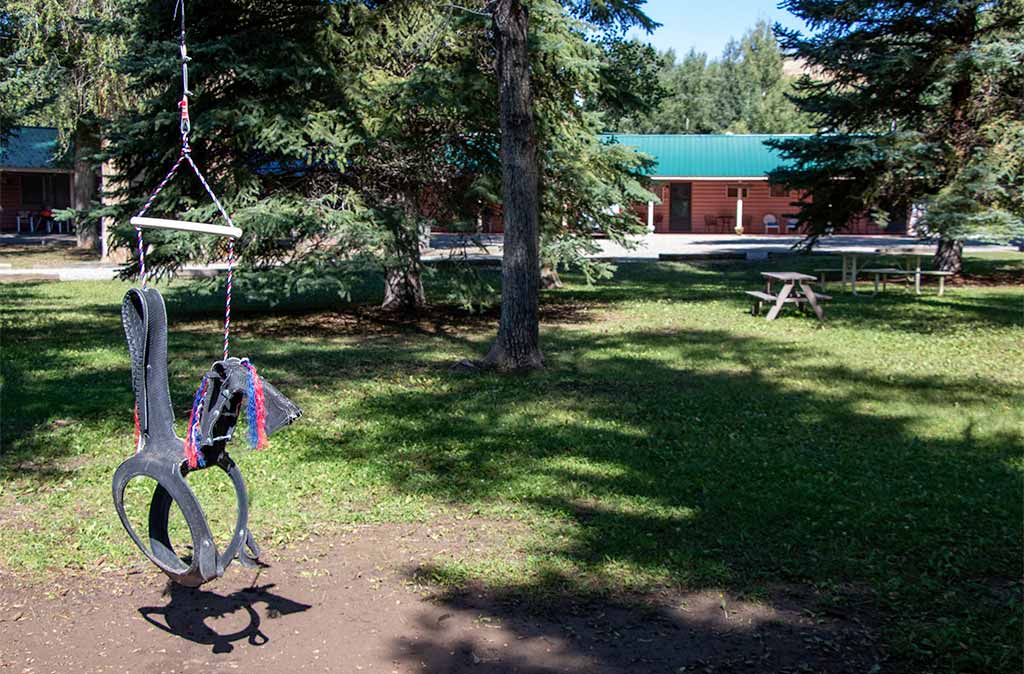 Snuggled on a island in the middle of the Gunnison river, the tourist court style motel offers 3.5 acres of heavily treed parks, picnic areas and a patio for group activities.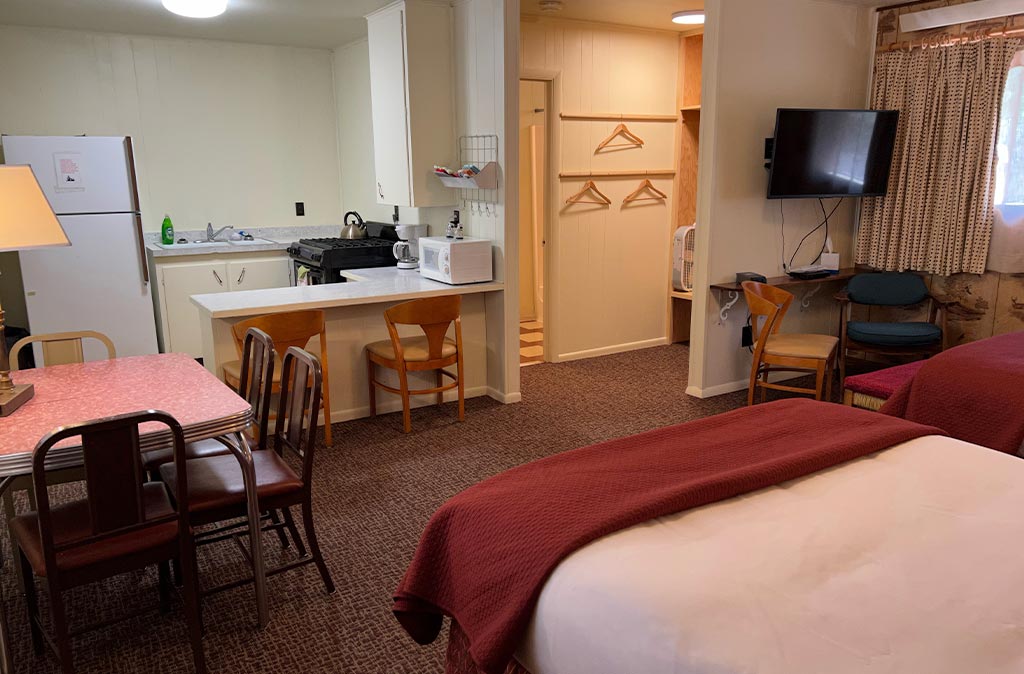 Lodging option with kitchens & kitchenettes
Island Acres offers a three-bedroom, three-bath cabin, different styles of two queen bed units and unit with either one king or queen bed. Choose what works best for your needs!
Our Reservation Guarantee
We never double book.
We do not participate with online travel agencies (Expedia, Airbnb, etc.) to lessen the chances of double booking.
We never use 'bait and switch.' Guests will not be changed to another style of unit unless requested unless it is a guest approved and no charge upgrade.
If you are promised a specific unit, you will get that unit.
We have always offered price transparency. You will see all fees before booking your reservation.
Do you charge cleaning fees?
We do not charge cleaning fees. We do ask that dishes, pots and pans are cleaned before a guest leaves. There is a $25 fee if that is not done.
We ask dishes to be left clean to to keep costs down. The dishes are picked up upon guests' checkout and returned to the dish room, where they are run through a santizing dishwasher. To have the dishes without dried on material keeps the housekeepers from having to extra time on santizing tasks.
Do you offer smoking rooms?
We do not offer smoking rooms. All units are smoke-free. Tabacco smoking is allowed on the grounds and porches if not disruptive to non-smokers. Marijuana, while legal in Colorado, cannot be consumed outdoors.
Need help planning your days for your stay?
Check out our Visitor's Guide
Great base camp when visiting neighboring communities and areas
Crested Butte
Lake City
Taylor Park
Check out the Scenic Byways
Have specific questions? Would you like to talk to a local travel expert?
Give us a call at 970.641.1442
Call the Gunnison Chamber of Commerce at 970.641.1501
Call the Crested Butte Chamber of Commerce at 970.349.6439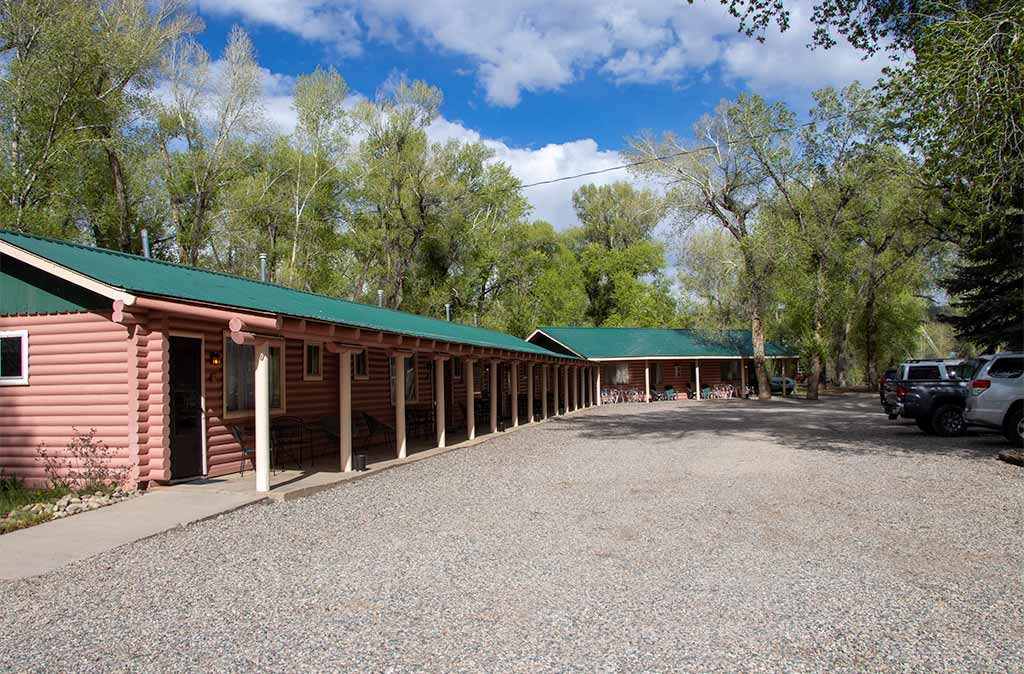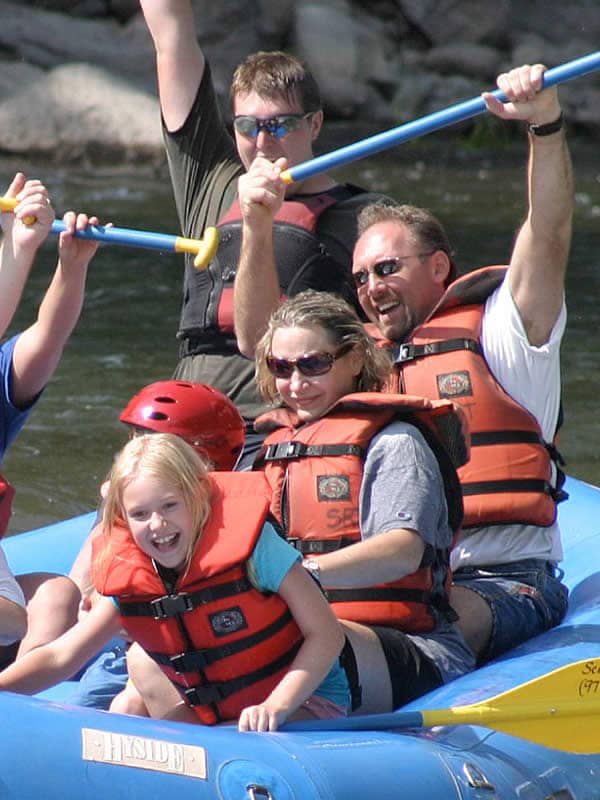 Get in touch with a real person:
Call Us: 970.641.1442 (landline) or
970.641.1663 (text messages)