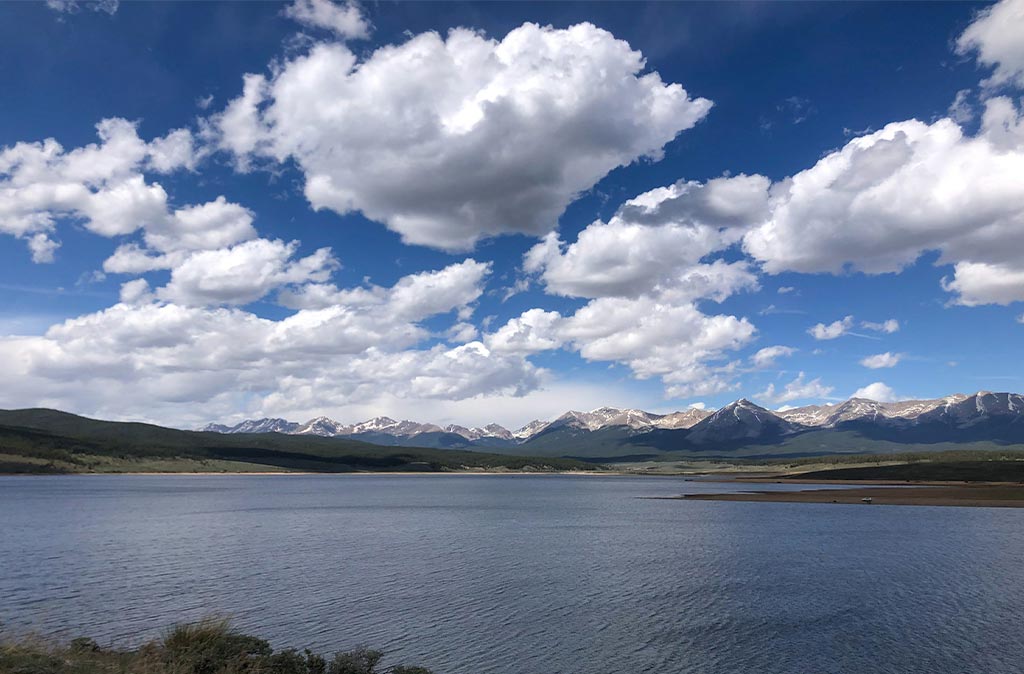 Gunnison, Colorado is a mountain town nestled in the Gunnison Valley. Surrounded by mountains, you can enjoy views of 14,000 foot peaks in the Elk mountains to the West.
Gunnison is the county seat of Gunnison County where 78% of the land is federally owned by the United States Forest Services, Bureau of Land Management, and Curecanti National Recreation Area. Conveniently located along Colorado State Highway 50, Gunnison is easily accessible from either Denver or Grand Junction. This convenient location makes Gunnison, CO the perfect location for your Rocky Mountain Adventure.
While you are planning your next adventure to Colorado, be sure to book your room at Island Acres Resort Motel. We are a small local business with comfortable rooms and we have the local knowledge to accommodate your plans!
What is Gunnison, Colorado known for?
Gunnison Colorado is a well-known outdoor adventure destination. The town is centrally located between Blue Mesa Reservoir and Taylor reservoir. The highlight waterway in town is the powerful Gunnison River, which eventually meets up with the Colorado River in Grand Junction, hence the name, Grand Junction. Gunnison also has several restaurants, bars and other entertainment options for you while you recharge from the day's adventures.
Activities for your Rocky Mountain Adventure
If you are looking for a mountain town with a variety of adventures and actives, Gunnison is a great destination. There are several outdoor activities near town including hiking, biking, rafting, fishing, and much more!
Hiking Near Gunnison, Colorado
First up is hiking, which there is no shortage of near Gunnison, Colorado. From walking paths near town at the Gunnison Whitewater Park to endless trails in the National Forest to some of the highest peaks in the states, there is something for everyone. Take a stroll near Blue Mesa Reservoir, or challenge yourself to hike to the peak of Mount Crested Butte.
Biking Near Gunnison, Colorado
Hartman Rocks Recreation Area is is a wildly popular mountain biking spot for locals and visitors alike. With 45 miles of trails, mountain bikers are sure to get their fix. You can also check out some of the trails just East of town for mountain biking.
For those wanting to cycle without as much adventure, there are plenty of bike trails and paths to get around the town. Enjoy a day of cycling downtown and browse the many local shops awaiting you.
Rafting Near Gunnison, Colorado
With the Gunnison river roaring right through town, it's no surprise white water rafting is plentiful in the area. You can learn all about white water rafting and other water sports in the area from the Gunnison-Crested Butte Tourism Association's guide on Rafting, Kayaking, and Boating. Also, be sure to check out Scenic River Tours or Three Rivers Outfitting for half day and full day rafting trips on both the Gunnison and Taylor rivers.
Fishing Near Gunnison, Colorado
Gunnison is home to some of the best fishing in Colorado. Brown Trout, Rainbow Trout, Kokanee Salmon, and much more swim in the lakes and rivers in the area. There are several areas to try your luck fishing, but the following list includes the most notable spots. Make sure to explore all the surrounding federal land has to offer to find new and hidden fishing spots.
Blue Mesa Reservoir
The Blue Mesa Reservoir is one of the most popular fishing locations in all of Colorado. People travel from all over to cast a line in Colorado's largest body of water. The Blue Mesa is a popular fishing spot for boat anglers with reported catches of large Lake Trout and Kokanee Salmon. Shore anglers also have luck at the Blue Mesa reservoir catching Brown and Rainbow Trout as well as Perch.
Taylor Reservoir
The Taylor Reservoir may be less known than Blue Mesa, which can be a good thing for fishing. The Reservoir has an abundance of Rainbow and Brown Trout. This reservoir is also good for either boat or shore anglers. The many streams around the reservoir provide a good opportunity for fly fishermen.
Fly fishermen also often hang out on the Taylor River just under the dam as some of the biggest Trout in Colorado have been caught with flies at this spot. These fish see a lot of flies so they have become smart and elusive, but it might still be one of the best places in Colorado to catch a record fish.
Gunnison River Fly Fishing
The Gunnison River is widely known as a fly fisherman's paradise. The river winds in and around the town of Gunnison so there is easy access to these waters. One well-known spot just outside of town is the Gunnison Whitewater Park.
For more information on current fishing conditions or local tips, be sure to visit Gene Taylors, our local outdoor and fishing shop.
Book Accommodations for Your Rocky Mountain Adventures with Island Acres Resort Motel
Island Acres Resort Motel offers comfortable units equipped with fully stocked kitchens on their historic Gunnison property. Enjoy the bike washing station to clean up after a long right and use the charcoal grills to cook up your catch of the day!