A Renovated American Classic
Island Acres Resort Motel is an independently owned hideaway on Gunnison's west side that blurs the line between hotel and home. It's a welcoming space designed to be as intriguing as its history and location. Not just a base camp from which to go out and explore cool stuff, but Island Acres is one of the very places that is part of the experience of a Gunnison Valley stay. Put yourself in the heart of the vibrant Gunnison Valley and share all that travel to this unique area is known for–hiking, trails, Hartman's Rocks, cycling, fishing, boating, rafting, climbing, the Blue Mesa, the Black Canyon of the Gunnison, western history, fantastic summer weather, wildflowers and wildlife. Or sit on the porch and read a book. Island Acres offers something for everyone!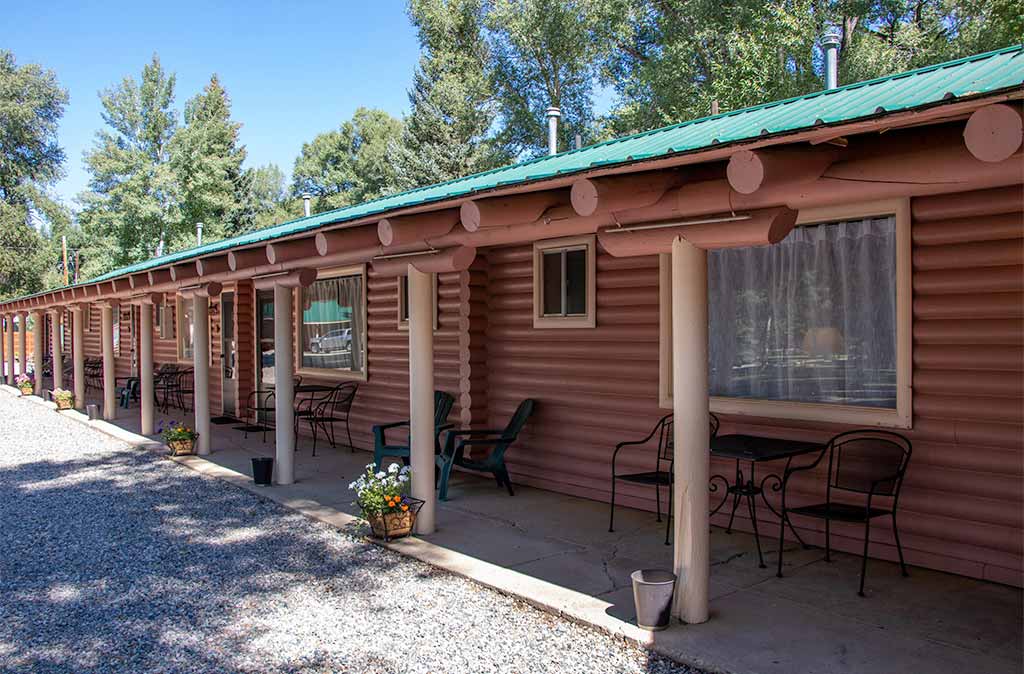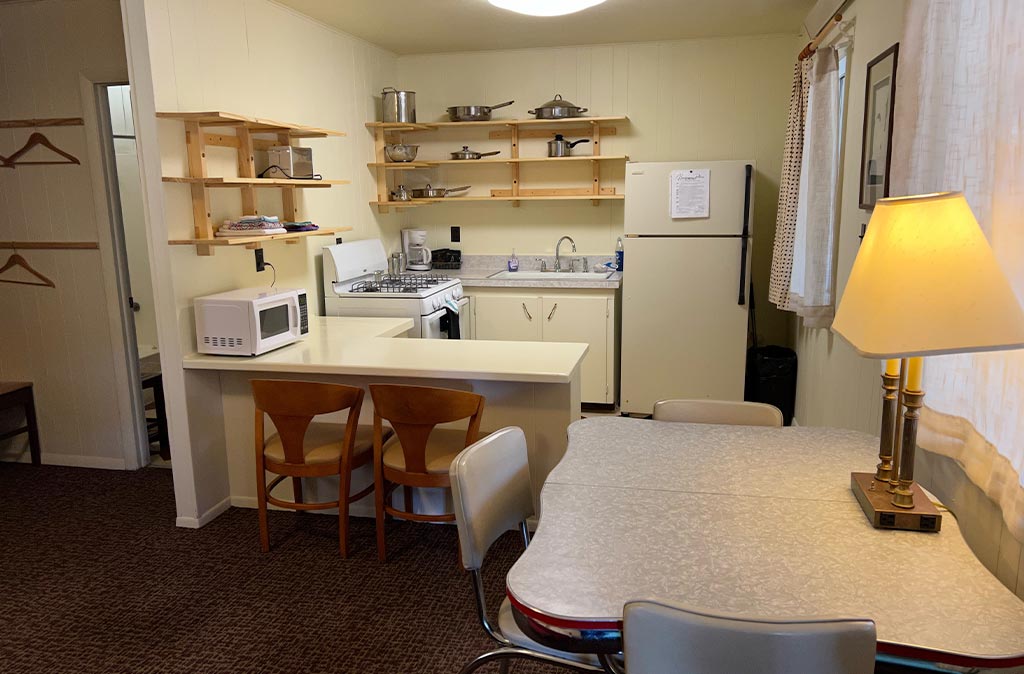 38339 US Hwy 50 Gunnison, CO 80530
970.641.1442 (landline) or 970.641.1442 (text messages)
What makes the restored Island Acres Resort Motel one of the best motels or hotels in Gunnison? Guest reviews mention that even their most discerning fellow travelers (their moms) found the units clean, comfortable and comfortable. Many refer to Island Acres as their 'home away from home.' Guests appreciate our tree-filled park setting, relaxing on our covered patios, the convenience of our full kitchens, the great sleep experience and amazing towels. In our 17 units, there are several layouts from which to choose–a cozy unit appropriate for a single traveler or couple to as large as a three-bedroom, three-bath cabin. Book your stay at Island Acres to create your own unique memories in our revitalized vintage 'tourist court hotel.' We bet your mom will approve.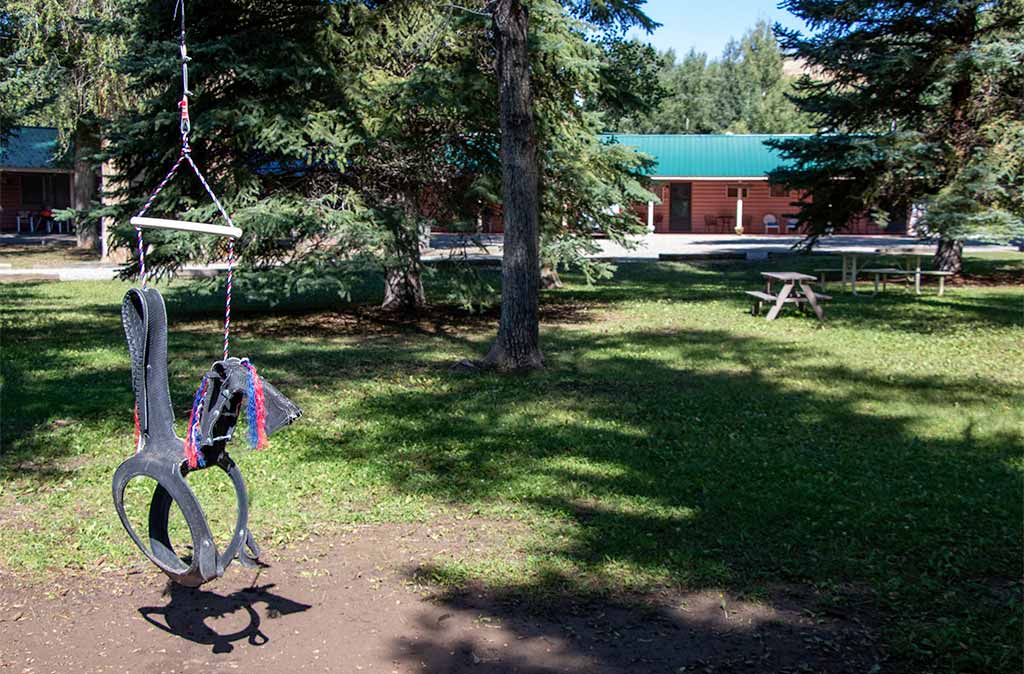 Snuggled on a island in the middle of the Gunnison river, the tourist court style motel offers 3.5 acres of heavily treed parks, picnic areas and a patio for group activities.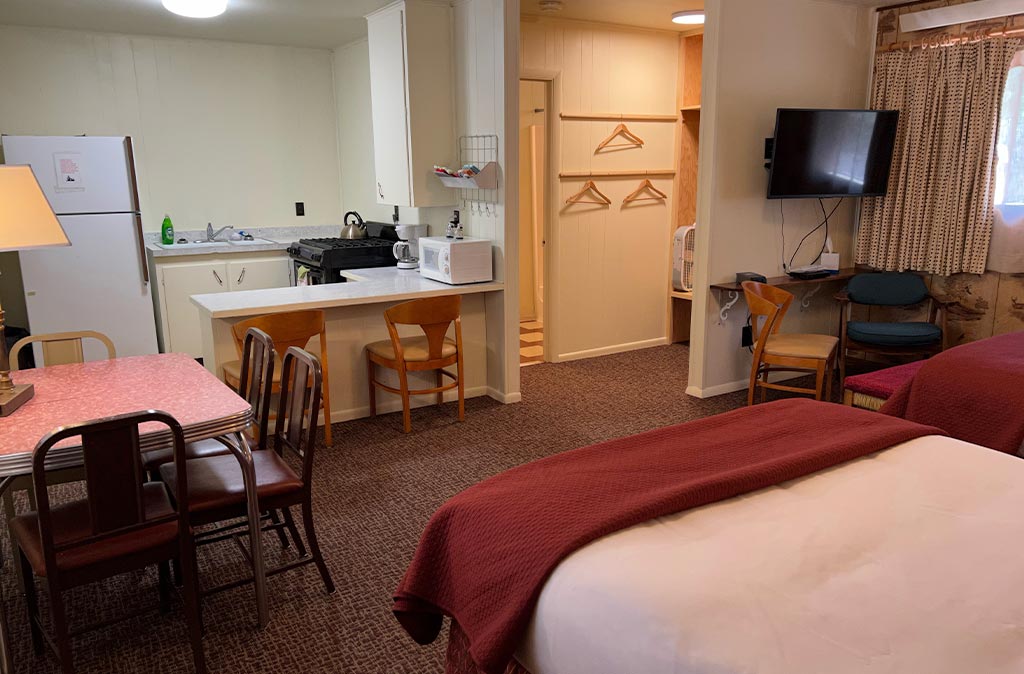 Lodging option with kitchens & kitchenettes
Island Acres offers a three-bedroom, three-bath cabin, different styles of two queen bed units and unit with either one king or queen bed. Choose what works best for your needs!
Our Reservation Guarantee
We never double book.
We do not participate with online travel agencies (Expedia, Airbnb, etc.) to lessen the chances of double booking.
We never use 'bait and switch.' Guests will not be changed to another style of unit unless requested unless it is a guest approved and no charge upgrade.
If you are promised a specific unit, you will get that unit.
Do you charge cleaning fees?
We do not charge cleaning fees. We do ask that dishes, pots and pans are cleaned before a guest leaves. There is a $25 fee if that is not done.
We ask dishes to be left clean to to keep costs down. The dishes are picked up upon guests' checkout and returned to the dish room, where they are run through a santizing dishwasher. To have the dishes without dried on material keeps the housekeepers from having to extra time on santizing tasks.
Do you offer smoking rooms?
We do not offer smoking rooms. All units are smoke-free.
Tabacco smoking is allowed on the grounds and porches if not disruptive to non-smokers. Marijuana, while legal in Colorado, cannot be consumed outdoors.
Need help planning your days for your stay?
Check out our Visitor's Guide
Great base camp when visiting neighboring communities and areas
Crested Butte
Lake City
Taylor Park
Check out the Scenic Byways
Have specific questions? Would you like to talk to a local travel expert?
Give us a call at 970.641.1442
Call the Gunnison Chamber of Commerce at 970.641.1501
Call the Crested Butte Chamber of Commerce at 970.349.6439
For Western State University students and families, military, AAA and those over the age of 65.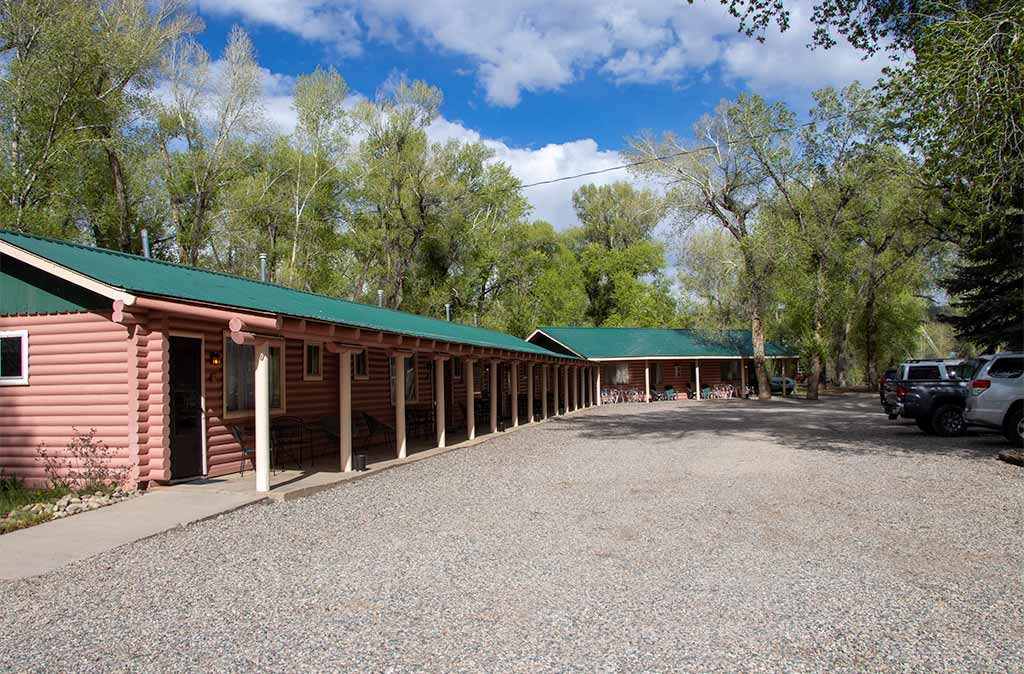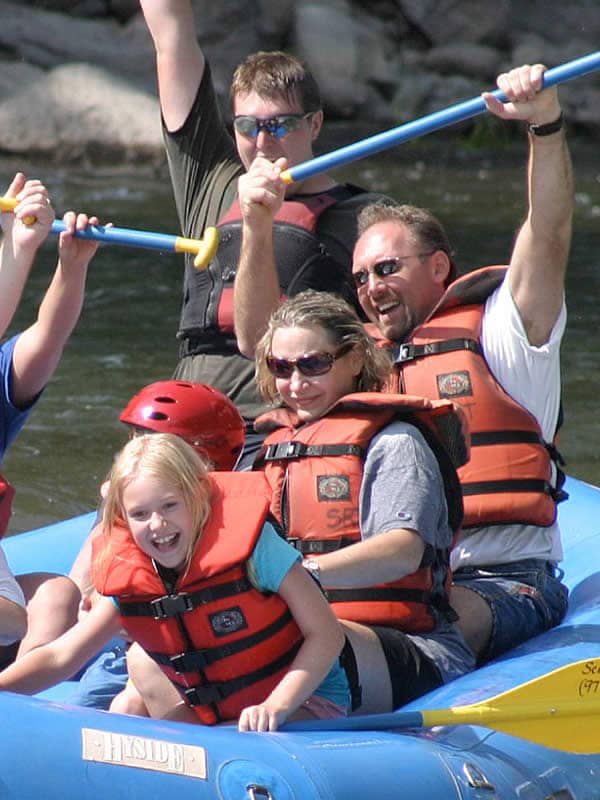 "As always, this is the best place to stay in Gunnison! Everything in the room is great, especially the bedding and the towels! So soft and cozy, feels like staying at a five star hotel! I love Island Acres, always the best time!"
Get in touch with a real person:
Call Us: 970.641.1442 (landline) or
970.641.1663
(text messages)