A Letter from the Owners:
To the Gunnison Valley Visitor,
First, thank you for choosing us. We know airlines say that all the time. Here it really does matter. We, small independent hoteliers, fight to avoid getting buried by the bigger hotel chains and the Expedias of the world. A more significant battle for our community is preventing our homes from turning into hotels, displacing our townspeople. Your decision, as visitors, to stay with us matters not only to us but to our community, to the people who live here and who are vital to the health of this community.
When we bought this property in 2006, possibly during an unidentified mid-life crisis, with an unjustified swagger, we thought, "How hard can this be?" Our dear friend, Karma, said, "Oh, let me show you…"
We did not know how much we did not know.
We learned that plumbing freezes in Gunnison winters, violent snowstorms can hit in early September, sleeping with the windows open in the valley's summer is magical and local fall colors cannot be matched. We have learned that the beauty of owning a classic 'tourist court motel' is that there is always something to remodel or restore.
We learned that being a lodging property in the middle of an island opens the door to meeting great guests, many of who become great friends. Island Acres has been the site of countless gatherings, reunions and Homecomings, families supporting NCAA or club athletes and parents hosting 'team meetings' (code for feeding everyone on the team). Friends and teammates have gathered to reconnect for special times or events and later to share sadness at the passing of a classmate, favorite professor, teacher or coach.
We have had weddings and baby showers, family reunions and families saying final farewells. Young families find us and return as their children grow. People return every year for Cattlemen's Days or the Car Show. We have had the exhausted, the adventurer, the tourist, the biker, the hiker, the person looking to fish or to get away and so much more. Whatever your reason for being here, know we need your continued visits and recommendations to others for Island Acres to continue to exist and thrive.
Circling back to 2006, we walked around what was then the unfamiliar and the rather dilapidated property of Island Acres. We said, "We could do so much with this." What we didn't know at the time was that Island Acres was whispering back, "I can do so much with you."
Thank you, guest, for being a critical part of this journey.
Sincerely,
Pamela and Timothy Williams
Local Contacts
For emergencies call 911
Gunnison County Sheriff's Office: (970) 641-1113
Table of Contents
In this Island Acres Welcome Guide we provide you with information about our property and the surrounding area to help you get the most out of your stay in the Gunnison Valley!
When is Check in and Check out?
Island Acres is a contactless check in property. We sill send you check in instructions by email and text the morning of your day of arrival. Check in is 3:00-8:00 PM. For those arriving later than 8:00pm, we will leave the lights on for you with keys just inside your unit.
Check out is 10:00 AM. If you require a late check out, please let us know via phone call or text prior to the day of your departure.
About Island Acres
As a family-owned property, we love to get to know our guests. You might see us out-and-about around the property during your stay. Please feel free to come say hello, introduce yourself, and learn a bit more about this historic property!
Island Acres is pet friendly. We are located on 3.5 acres of property and have large parks to accommodate your energetic pets. Please pick up after your pets to ensure all of our pets and children have a clean environment to enjoy the summer in Gunnison. We have conveniently provided pet clean-up stations with baggies and trash bins in both parks at the front of the property. To read our full property policies including those involving pets please go view our Island Acres Policies page.
Property Map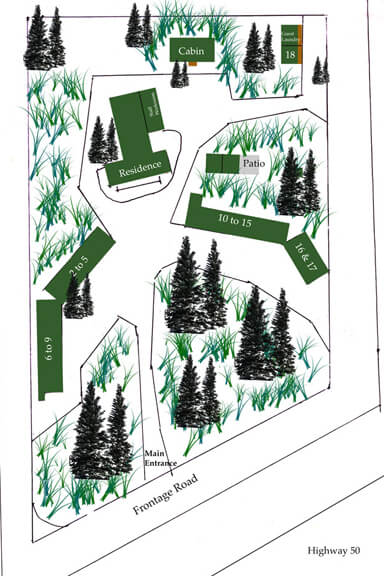 Island Acres Amenities
We are proud to offer a wide range of amenities for our guests. If you do not find everything you need for your kitchen or kitchenette in your room, please help yourself to baking sheets, pots, pans, and more in the 501 building next to the patio. If you are unable to find what you need, please feel free to text us for assistance.
Suggested Outdoor Activities in the Area
Gunnison, Colorado has a wide array of outdoor adventures! Hike in the Gunnison National Forests, mountain bike at Harman Rocks, or take a scenic drive through the Black Canyon of the Gunnison National Park.
Gunnison National Forest
Gunnison, Colorado is surrounded by National Forest land. Hiking, mushroom foraging, 4-wheeling, fishing and more await you on the forest roads just outside of town.
Hartman Rocks
Just across the highway from Island Acres, you will find access to Harman Rocks. It is managed by the Bureau of Land Management and a popular spot for mountain bikers.
Black Canyon of the Gunnison National Park
The Black Canyon of the Gunnison National Park offers incredible views. You can take the scenic Highway 92 along the Gunnison River for an otherworldly experience.
Fishing in and around Gunnison
Fishing is hugely popular in Gunnison, Colorado, and for obvious reasons! From reservoirs to rivers, and bate fishing to fly fishing, this area of the Rocky Mountains has fisherman covered.
Blue Mesa Reservoir
Blue Mesa Reservoir is Colorado's largest lake that resides entirely inside the state. This boating and fishing haven is located just a 30 minute drive East on Highway 50 from Island Acres property. Blue Mesa is home to a variety of trout species as well as Kokanee salmon.
Gunnison River
The Gunnison River is well-known to local fly fisherman. You can find great access just across the highway at Gunnison Whitewater Park. Alternatively, if you follow Highway 50 East toward Blue Mesa Reservoir, you will find tons of great pull offs to cast a line, including Curecanti National Recreation Area's Wilson's Landing.
Roaring Judy Fish Hatchery
Roaring Judy Fish Hatchery near Almont off Highway 135 is a great spot to fish nearby for the famous Kokanee salmon. It consists of four small ponds that are always full. While the fish are plentiful, the popularity of the area provides a nice challenge for even the most seasoned fisherman.
Suggested Restaurants in Gunnison
Gunnison may be small, but that doesn't mean there aren't amazing restaurants to satisfy your stomach. Below, we share just a few local favorites, but be sure to check out a full list of recommendations for Gunnison dining in our blog on top Gunnison restaurants and food.
Garlic Mike's Italian Cuisine
Garlic Mike's is a clear favorite in Gunnison dining. The owner and Executive Chef, Mike Busse, combines his culinary excellence with the casual dining experience most Gunnison visitors expect. Their one of a kind river bar is a must for visitors looking for a uniquely Gunnison experience.
Pie-Zans Pizzaria
Pie-Zans Pizzeria is just up the highway as you enter Gunnison city limits. They have a large menu offering specialty and build-your-own pizzas, salads, sandwiches, pasta, and more. They have a great space for larger groups and also provide carry-out.
High Alpine Brewing
For beer enthusiasts, we highly recommend a visit to the local High Alpine Brewing Company. Fairly new to the valley, High Alpine Brewing opened its doors in 2015. While beer is obviously popular at High Alpine Brewing, they also serve delicious brick oven pizzas, sandwiches, and fresh salads while offering a great appetizer selection.
Suggested Shopping in Gunnison
Downtown Gunnison is home to some neat local shops. Below, we share a couple of our local favorites to help you get everything you need for your Gunnison adventures.
Gene Taylors Sporting Goods
If you are looking for gear for outdoor adventures, Gene Taylors is the spot. A truly local gem having started in Grand Junction, CO just down the mountains, this store has everything you will need for fishing, hiking, camping, and more. You can also pick up any fishing or hunting licenses you need while you're shopping.
Six Points Thrift Store
Six points is a local thrift store operated by a non-profit providing vocational training and jobs for people with disabilities. If you are a thrift shopper or love to support organizations with a cause, you will definitely enjoy popping into Six Points to take a look around at their ever-changing inventory.
Leave a Review
We hope you enjoy your stay at Island Acres Resort Motel and find this welcome guide useful for your plans. If you are happy with your stay at Island Acres Resort Motel please leave a review in our digital guestbook!